Disneyworld and Universal May 2004
My parents are visiting and wanted to go to Disneyworld Orlando, which is two states away in Florida. We decided to drive down. Booked rooms at the west gate Holiday Inn and set out on May 19.
Day 1: Driving to Florida
From South Carolina, took 17 south until I95, that's about 100 miles. Then took I95 south to Daytona Beach -- about 200 miles. Filled up on gas at a cheap place in Georgia just inside the Florida border. Hit I4 all the way to Orlando.
This was my first long-distance drive, so I took it easy and stayed at the speed limit. The trucks had to get into the fast lane. Sorry, guys!
Arrived after 7 hours, checked in, ate at Denny's. Wandered around looking for cheap tickets, finally bought Disney park hoppers (4 days, each day you can enter an re-enter any of the 4 major parks) and a day's Universal Studios.
Day 2: 3-in-1 Express
Took the hotel shuttle bus to Animal Kingdom. Despite what they say ("Not a zoo -- Nahtazu, get it?"), it's a zoo. With rides. After looking at a bunch of animals, took a train ride to Rafiki's conservation thingy. Took the train back to the main park. Ho-hum. They have a stupid fake Indian village. Ignore it.
Next we hit MGM studios. Quick ride on the Star Wars simulator, which was good enough for a second go. I recommend it. It's not as motion-heavy as a roller-coaster, but you'll want to hang on to your seat. Then a ride through "The Great Movie Ride", which was kinda okay. You ride through random movie scenes in an open bus kind of thing. A quick ice cream. Declined to ride the tower of terror. Dind't see anything else of interest, so went to EPCOT.
At EPCOT we couldn't figure out where the monorail station was, so we walked around inside. Spaceship earth is slick but low on content. Mission to Mars is supposed to be the number one Disneyworld attraction according to the Disney channel, but it's just a fancy centrifuge. Worth riding twice, though. Ignore the "mission" chatter from CAPCOM, I suspect that even if you don't follow button-pushing orders it'll be fine. Nice if you don't engage your brain.
After declining to ride the Test Track -- must try that next time -- we took a look at the world showcase lagoon, which wasn't very interesting. China put on a decent show.
Day 3: The Magic Kingdom
The Magic Kingdom is the real Disney theme park. The other parks and water parks are just add-ons. Magic Kingdom is where it began.
This time we had a plan. So the first thing we did was walk through the Swiss Family Treehouse. Interesting, but so-so. Good for kids.
The Jungle Cruise is supposed to be a whimsical ride, whatever that means, but it was kinda okay, from the "guide"'s poor jokes to the animatronic animals. Ride it once only. Pirates of the Carribean was good, but the movie was better. At least the dog joke works in both media.
Declined to ride Splash Mountain. Tom Sawyer Island was a total bust, unless you like wandering through dark tunnels. You also have to be a Tom Sawyer fan, which I'm not. I've read the books, and they're okay, but I'm no fan.
Then we finally hit a real roller-coaster -- Big Thunder Mountain Railroad. It doesn't turn upside down, but it's still scary. Worth a ride if you like RCs. I'm not going on that one again.
Then we went to see the Hall of Presidents. Now that is amazing. Animatronic presidents, very realistic (GWB was the most realistic). Worth catching a couple of times. Watch the introductions: their heads move towards each other. At one point, one of them was making a speech and two of the others actually moved their heads together for a brief comment.
The Haunted Mansion. Ho-hum. Not very scary at all if you're over 15. We wanted to see "it's a small world" (yes, the name's in lower-case) but it was closed.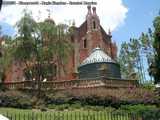 Then we skipped straight to the Indy speedway. Now I ask, why do these cars never have proper steering? I mean, okay, they're on a track and somewhat restricted, fine, but I could get no response at all except by spinning the wheel -- and then it was either all the way left or right. It was like trying to play a racing game with a keyboard, only much worse. It was worse than playing Tie Fighter with a mouse.
The Tomorrowland Transit Authority is a sort of train ride through some of the attractions in Tomorrowland. It's nice. Try it.
Then we tried out Buzz Lightyear's space ranger spin thingy. It's a bunch of coaster cars moving along a track, but the spin is under your control and you shoot aliens with the laser guns and score points. I think I scored around 190k points. It's fun for kids 5-15.
We went to check out Mickey's Philharmagic. I didn't really want to, because I figured it'd be some hokey 3D graphics, but actually it's alright if you don't have to wait more than 5 minutes for it. Watch out for the water.
With half the day still left, we decided to check out Mickey's Toontown fair, which I didn't want to because I don't like over-hyped stuff. All we did was ride the Barnstormer, which is a sub-minute roller-coaster. You'd think that being for kids, it would be gentle, but it's not. Or maybe I'm an RC rookie.
I think we rode through Snow White's scary adventures at some point. Do this only if you have kids aged 5-10 with you, otherwise it's a waste of time.
Then we went back to MGM... yes, this is still Day 3. We went back to MGM Studios to hit the stuff we'd missed the previous day. Drew Carey's Sounds Scary was not that great, but it passed the time until Indiana Jones Epic Adventure was ready. IJEA was definitely worth it. They showed how some of the stunts in the movie were done. Then I went for a second ride on Star Tours.
Back to the Magic Kingdom for the fireworks show. We got to the monorail station outside MK at about 9, so the show was about to start. The monorail would have taken time to get there, so we wtched some of it from across the lake. Then the ferry came in, so we rode it across the lake and back while watching the show.
Day 4: Universal and home
Since the drive takes about 7 hours, and we would have daylight until about 8pm, we took in a half-day at Universal. We were only interested in the movies section. So we looked at Shrek 4D, where you don't really need to have seen the movie because there's a recap at the beginning. Decent 3D effects.
Next we hit the Twister. It's not as bad as they make it out to be. A few nice effects, but nothing special.
Jaws, the boat ride, was fun. Back to the Future is very scary in a roller-coaster way. Men in Black is fun and not scary. The E.T. ride is for kids.
Then we went home.
(Many of the words on this page are registered trademarks and other legalese of the Disney corporation and Universal, or whatever they're called.)