San Francisco trip, December 2001
Seven of us went from Los Angeles to San Francisco and back. We saw parts of Monterey, Napa Valley, and San Jose. This page is here to show the photographs and put in one place my account of the trip, so I don't have to repeat it over and over.
We were seven: KD, KP, Srirang, Kunal, Anand, Ashish, and me. Sachin joined us in SF late night on day 1 and left in the evening of day 3. KD, KP, and I are roommates, along with 2 others who were not with us for this trip.
This page is mainly meant for the pictures we took. Maps are here Click on the small pictures to see the full image. The pictures are mixed digital and film camera shots. One image is scanned.
Day 1, Dec 28, 2001: Leaving Los Angeles (or, The Hobbits)
Despite plans to leave at 0600, the van started rolling at 0745 because no one woke with the 0400 alarm that I had set -- least of all me.
We eventually hit US 101 northbound, passing quickly to the Santa Barbara coast. Breakfast on the pier, at a place called Moby Dick, was excellent.
| | |
| --- | --- |
| | |
| Marina west-ish of the pier | Easterly, blocked by buildings on the pier |
| | |
| A pelican? | Group shot |
Heading north along US 101, our next stop was a beautiful Dutch village called Solvang. We only stopped for half an hour due to lack of parking.
| | |
| --- | --- |
| | |
| Near Solvang | 4-way clock in Solvang |
Continuing north-west, we passed Vandenburg AFB where we learned that tours were closed for the day. Further north, Morro Bay, a wind-swept village on the coast. Hearst Castle was another tourist attraction on our route which we did not have time to visit. Advice to tourists: stopover in Buellton and San Luis Obispo if travelling from LA to SF like us.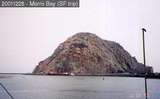 (Morro bay)
I don't remember when this was taken, but just look how roomy the van was (not)! That's KP and me in the front seats, Ashish and Anand in the middle, and KD (visible), Kunal, and Srirang in the back.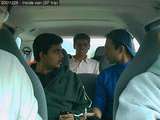 By this time it was evening. After a hair-raising drive by KP (safe driver) along the rocky and precipitous coast, we reached SF and the Travelodge motel.
SF was very rainy.
The Crookedest Street
Morning lunch at an Indian restaurant

(van in the foreground)
KD and Ashish
Northern end of the Golden Gate
The area around the north end of the Golden Gate:
| | | |
| --- | --- | --- |
| | | |
| A misty pier | "Very Yorkshire" | Foggy hills |
Pictures of Civic Center:
The evening was spent wandering around Union Square.
A tour of the Robert Mondavi Winery in Napa Valley, followed by an early dinner at Max's Diner in SF.
| | | |
| --- | --- | --- |
| | | |
| The badge for the tour | Wine tasting | Max's Diner |
Whaddya know, we begin to leave and the sun comes out!
Stopped over in Berkeley, UCB. On the campus:
On UCB campus
Various views of a tower (Sather Tower?) on UCB campus